Message from Principal
Heights by great men reached and kept,

Were not attained by a sudden flight.

But they while their companions slept,

Were toiling upward in the night.
The meaning of the above stanza is self-evident. Nothing comes from nothing; nothing ever could. Success and achievements are commensurate with will power, hard work, grit and resourcefulness. The day has come when every student should realize that with globalization and immense change in the international scenario added to the recent upheavals in the world economy, the multinational companies and the corporate world have changed their outlook and methods of assessments for placing candidates in their companies. Earlier students with distinction in studies were the first to be chosen for the top jobs. Now the trends have changed and the candidates are chosen not just for good marks, but more than that they are tested for the knowledge they have retained with them.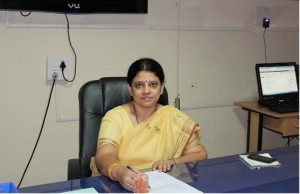 In these days of totally urbanized  atmosphere, the CVR Campus is like a breath of fresh air set amidst landscaped gardens and with a highly surcharged interactive atmosphere among students, faculties and mentors. Apart from an all encompassing academics, the College provides industry interface, performance enhancing programs, placement training and career support programs, multiple skill acquisitions, orientation and induction programs, for the deserving students. CVR conducts personality development programs and trains students for improving their communication skills and leadership qualities.
The ideals of CVRCE is to develop technically qualified and skilled engineers who easily adapt to quick changing environments in the present world scenario.
I am delighted to express my thoughts about the departmental growth. The average passing result is excellent in the department. The department of ECE offers premier professional technical training that keeps in pace with the latest developments in the field of Electronics and Communication Engineering. It offers four-year full-time B.Tech program in ECE. The course is accredited by NBA. We have excellent infrastructure, highly experienced faculties and professionals associated with research work which collectively ensure dynamic and vibrant environment in the campus.
Dr.Nayanathara K Sattiraju
Principal